Can you wear a ponytail with a hair topper?
Wearing a hair topper doesn't mean you always have to wear your hair down. A simple and classic way to add style to your do is to wear it in a ponytail! Create this look with a few easy steps:
Step 1:
position your topper on your head like you would normally and secure the clips.
Step 2: grab hair from the top portion of your hairpiece and use it as a guide for how high you want your ponytail.
Step 3: take the remaining sections of the topper hair along with your biological hair and brush them together to blend back into your ponytail. If there are any areas of scalp showing, try loosening the hair in those sections so that it isn't pulled back as tight.
Step 4: pull baby hairs or "wispies" towards your temples to help cover any areas around your hairline that might look sparse. It's especially helpful if you have a fringe on your topper or face framing layers trimmed in.
Pro tip– Apply hair powder/concealer to disguise any areas where your scalp is showing!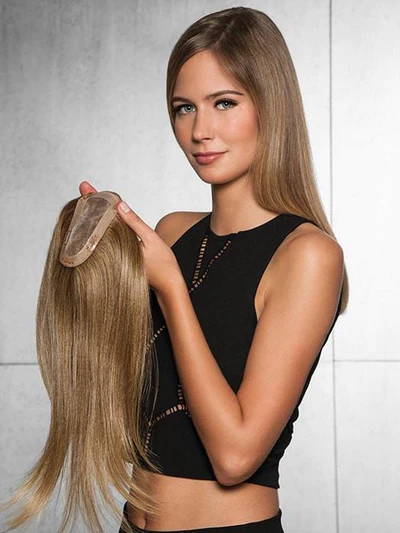 Leave a comment