Which hair topper is best for you?
When dealing with hair loss or thinning, hair toppers can make all the difference. There's a pretty big selection to choose from and we're here to help guide you through the process of shopping for the perfect fit.
Determine the target area

Grab a mirror and analyze your hair carefully to pinpoint the specific region where you're experiencing loss, thinning, or patchiness – the area that the topper will discreetly cover.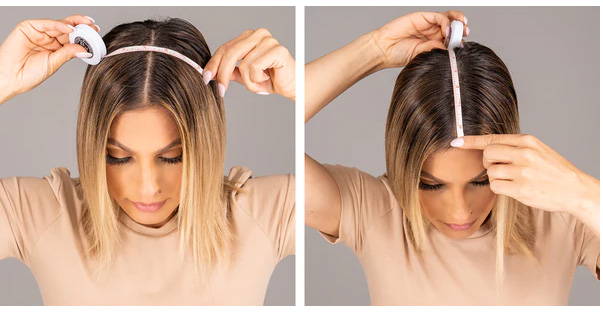 Measure the area you're looking to cover (length and width), then add an extra inch to be sure your topper is large enough to clip to healthy hair. Check out our detailed guide on
how to measure for a topper
! Also be sure to record your measurements again every 6 months to account for any changes with your hair loss.

Identifying your measurements and the extent of your hair loss has helped determine the ideal coverage you need. For example, if your hair loss measures 4 x 3 inches, you'll want to choose a topper with a base size of at least 5 x 4 inches.
Picking out your topper is a personal decision based not just on coverage needs but on style goals as well! Consider the fiber, color and curl pattern that best suits your lifestyle and blends well with your biological hair. Ready-to-wear toppers are also made with and without lace fronts so that's another factor to keep in mind.
For additional support with shopping for a hairpiece, take our
online topper quiz
and remember that our team of Hair Experts is only a phone call or email away!
CONTACT US
1-800-300-6001 | hello@hairtoppers.com
Leave a comment