What Kind of Hair Topper Should I Get?
Hair toppers aren't a "one-size-fits-all" product and they range in size, hair type and color. Since we have a blog all about color matching, we'll focus on size and hair type for this one. The base size you choose will depend on the coverage you need whereas fiber and texture have everything to do with your style needs and budget. Let's dive in!
If your hair loss or thinning is more advanced, you'll choose a larger base size like
Top Billing
(right) that offers a lot more coverage than a topper like the
easiPart
(left) that covers just your part. The first step in deciding on a topper is measuring your area of hair loss. Follow our guide on
how to measure for a topper
to ensure that you're choosing the right size and there is enough healthy hair to clip to.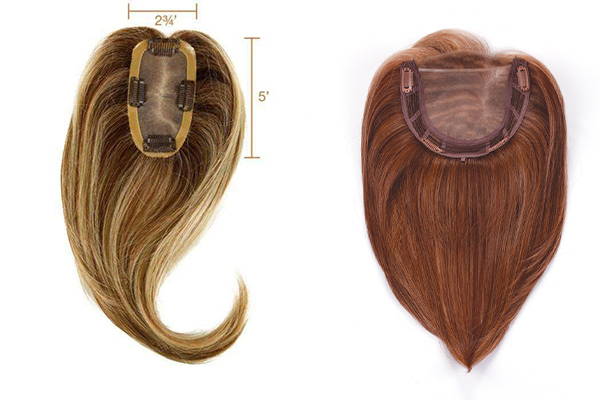 Toppers are made of four different hair types: regular synthetic, heat friendly synthetic, human hair/synthetic blend and 100% human hair. Each fiber has its pros and cons:
The most budget-friendly, this fiber has style baked in so you won't have to worry about blow drying or curling. If you prefer to spend minimal time on your hair, this might be the best option for you. Lifespan is around 3-6 months with proper care and daily wear.
Also on the lower end as far as price, this fiber offers the same benefits as regular synthetic plus the added option of stylability with hot tools. It tends to frizz faster so it requires slightly more maintenance. Lifespan is around 3 months with proper care and daily wear.
This unique blend takes on the natural look and feel of human hair and it's pricier than synthetics but not as expensive as a human hair piece. The heat friendly synthetic fiber blended throughout helps it maintain style after it's curled. Because of the blend, this duo requires the same amount of maintenance as 100% human hair. Lifespan is 3-6 months with proper care and daily wear.
The most natural and luxurious of the options, 100% human hair toppers are more of an investment but worth it. They provide ultimate stylability and blend most naturally into your bio hair. Human hair does require more upkeep and styling time, but if this doesn't bother you and the price works for your budget, there's really no better option!
Synthetic fibers are offered in wavy, curly and straight textures. Human hair can be styled any way you'd like and some have curl patterns permed in or are naturally wavy because of their origin. Matching texture to your bio hair is just as important as matching color.
Still not quite sure which hair piece is the best option for your needs? Take our
online topper quiz
and we'll help guide you to the perfect fit!
Leave a comment